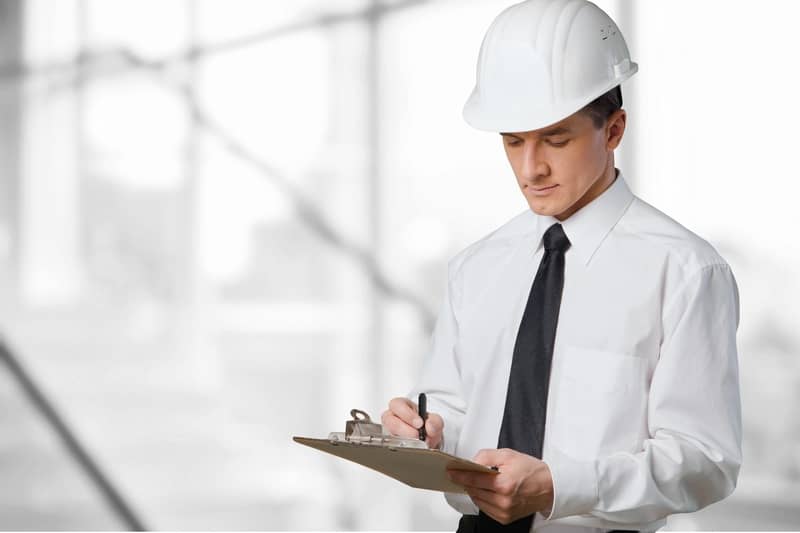 A property
snagging list
 is compiled during a
snagging inspection
usually carried out on a newly built or recently re-developed home. The aim is to try and find any and all defects in the property before or shortly after completion so that the snagging list can be rectified by the builders. Each item on the list known as 'snags' are given to the builders / developer to resolve.
Although most snags tend to be minor and cosmetic, if left alone, cosmetic issues like chips in brickwork and uneven grouting can reduce the structural integrity of a wall. Some of our team of inspectors have also found major snags, which would have failed building regulations.
The main question is, do you feel confident in writing the snagging list yourself?
The best practice is to hire a professional to perform the snagging survey for you as they will have the best knowledge of how to inspect the property and what to look for. However, you can view the property and compile a list of snags yourself, or send someone to do so on your behalf. If you do it yourself, you should also remember to take pictures of any issues you find to support your list.
Regardless of who performs the inspection, these are the things that you should make sure they are looking out for when making the snagging list. This picture has two major snags, which would breach building regulations! The waste pipe finishes without a dergo vent inside the attic and the extractor fan exhaust from the bathroom is not connected; meaning moist steamy air will be pumped into the space which would lead to serious damp and mould issues.
External
Roof
There are a lot of things to consider when looking at the "roof over your head" and it is probably the most important area to inspect for a snagging list. From your basic tiling and eaves to your chimney, skylight, soffits, eaves, ridges, hips and gutters, you need be sure to spot all the snags you can.
Your tiling should be inspected for any loose or damaged tiles that may have happened as a result of them being installed in a hurry. Even small cracks in tiles can cause problems in the future, so it's worth making sure they are all straight and undamaged. Damaged tiles is one of the most common snags that our team find, which is why we offer an upgrade to include a drone survey which gives them a much better view of the components of the roof.
Walls
It is important to make sure that all of the exterior walls and fences are finished properly. Again, the walls are a very important part of the snagging list and it's important to check the brickwork thoroughly inside and out (and where possible check the air bricks). Any gaps in mortar can be also be used as an easy route for water and pests to gain access to your internal walls, which can cause a broad range of very costly problems. Checking for damp and thermal bridging issues is critical. This is why we offer an upgrade to include use of a thermal imaging camera during your inspection.
Fences and Gates
Fencing should be consistent material type and colour. Any gates or corners need to be finished properly without any misaligned parts and of course, check that your gates open and close easily….you would be surprised!
Pipes
Any exterior pipe on your property must be able to function properly, including guttering and waste pipes. Making sure that water can flow through and drain effectively is critical to avoid any pooling which can lead to leaks, and ensuring that the pipes won't break or buckle during heavy rainfall. Support centres should run sufficiently,  10mm expansion gaps must be left between the end of the downpipe and the bottom of the sockets of all other fittings in the downpipe run.  Conformity to Approved Document H is a must.
Cosmetics
After spending so much money on your new home, you want it to look best it can from day one. Make sure that any exterior paintwork on doors, frames and windows is even and free from drips, splatter and gaps. Due to time constraints in getting new properties ready for market, some jobs can end up being rushed leading to patchy paintwork, specks on unpainted surfaces. You need to make sure that all brickwork is in perfectly aligned, level and that that acid wash has been applied correctly. If the acid wash hasn't been properly applied, unsightly white powdery marks may appear on the brickwork.
Drive
It might sound logical, but if your new home has a drive, you need to make sure it's big enough to accommodate your vehicles. Also check that you will be able to open your car doors comfortably. Check the surface for inconsistencies including different shape/colour stone or brickwork, patches which might be thinner than others if it is bitumen. Any borders to gardens are also consistent with no gaps in turf or signs of heavy vehicle damage. There should also be a run off for rain water.
Garage
If your property has a garage, you'll once again want to be looking at ease of access and whether its size is suitable for your needs. You should also be checking the doors and any windows to see if they are sturdy, if they open and close easily and if they have satisfactory locks. You might want to also check the cosmetics of the garage, make sure the paint or brickwork are in good condition.
The interior
Attic
Starting at the top of the house, this tends to be a snagging list hotspot as a lot of the workmanship will tend to go unnoticed in the dark corners of a roof. We check all areas of the attic space including any pipework, electrics and insulation as well as the internal roof structure including batons, bracing, the frame itself and any required air flow with air bricks or vents.
Doors
Unless of course your new home is open plan, it will have plenty of doors, so you should make sure that you test each one for possible problems. Open and close them to make sure they are fitted properly and there are no issues with the hinges. You should also make sure that there is not too big a gap between the door and its frame which would lead to drafts. However, there should be enough ventilation as per Approved Document F. Finally, make sure the handles are easy to use, not too stiff or too loose and check that any locks are functioning correctly. You should pay close attention to any wooden doors that lead outside; if they are not properly fitted, they could be more susceptible to damp.
Windows
It's important that you make sure all the windows in your new home have been fitted correctly, with no gaps between the window and the window frame that could lead to damp. If not, you will end up with drafts making your home cold, especially in the winter. If a window opens, you should also open and close it to test its hinges and check its lock. Also consider that if there are scratches on any of the glass, you can request this to be replaced. You are buying a new home that is meant to be in perfect condition. If damage has occurred during the building process, it should absolutely be fixed.
Stairs
Assuming your new home has a staircase, you are going to be walking up and down it a lot, so you need to make sure it is built correctly. Test out the stairs, make sure they feel even and that they are strong enough to take your weight. If you hear any creaks as you walk up or down, you'll want to make a note of them too. The design should conform to BS 5395-1.
Kitchen
Some of the most common issues on snagging lists can be found in kitchens. You should be making sure all the fittings are installed correctly and the worktops have the correct finish. Check all the cupboards the way you would a door, opening and closing, checking the hinges and whether they fit nicely. It is vital that you test out all the built-in appliances, like the oven, extractor fan, hobs and sink, to make sure they all work correctly.
Bathroom
Make sure that all the grouting is complete and that any tiles and skirting boards are fitted correctly. Remember that bathrooms can easily develop mould so you need to minimise spaces where it can grow. You should also test all the taps and shower to make sure they work and that the temperature is suitable and adjustable.
Cosmetics
Interior Fixtures & Fittings
Just like the exterior of your home, you should feel that the inside looks pleasing to you. Make sure that every wall and ceiling has been completely painted and has a smooth even finish. Look out for any cracks in the wall or any areas where paint may have ended up somewhere it shouldn't be. Check the carpets and floorboards are all laid properly and there are no gaps between the flooring and the wall. You should also have a keen eye on skirting boards, as these can sometimes be loose or poorly fitted. With homes under NHBC warrantee, cosmetics should be checked in line with tolerances set out in chapter 9.1 of the standards handbook.
Insulation and heating
Even if it's summer when you inspect the property, you will need to test out the heating.  Try out any radiators you find in the rooms to make sure they work and that they heat up to a satisfactory temperature. Check that the boiler is accessible, and easy to use. You should make sure you check the insulation of the house, especially in any loft spaces. Many new build homes have insufficient loft insulation when they are first built so you'll want to keep an eye out for that. While you are there you can also check for gaps in the roof that may allow cold air in.
Plumbing
Making sure the plumbing is working is a big priority, you don't want to end up with blockages and smells ruining your experience in your new house. Make sure you run every tap in the house, including outside taps if you have them and see how well the water flows and drains. You should flush all the toilets to see how well they work, perhaps put some loo roll in to make sure it goes down. If water tanks are accessible you can try inspecting them, though this will need a more professional pair of eyes.
Electrics
From internal wiring, plug sockets, lights and switches, your new home is going to have a vast amount of electrical cabling. Our team of inspectors check for a range of snags including making sure they sockets and switches are level, flush with the wall and don't pose any threat. They also check your distribution board is up to scratch and is labeled appropriately (which is a required building regulation).
Conclusion
It is unlikely that you will find snags that aren't minor or cosmetic issues when you inspect your home, but it is important to check everything to be on the safe side. Though rare, it does happen that builders or construction companies will forget something or not install something properly, and if that happens with your home, it's better to know as soon as possible before you are out of your warrantee period. Before you are having to deal with the problem. Being thorough with your snagging survey is the best way to feel confident come completion day!
Do remember, if issues persist after completion, your house will still be under warranty which should help you to avoid having to pay for the cost of getting the builders back to fix it.
Thermal image analysis (optional extra)
Drone inspection (optional extra)
Internal Joinery, Woodwork, Ironmongery
Plastering, Dry Lining, Paintwork Finish
Application of Sealants, Mastic
Ceramics, Sanitaryware, Showers and Screens
Plumbing, Heating and Hot Water Systems
Electrical Outlets, Switches, Lights and Consumer Units
Kitchen Appliances, Kitchen Installation, Worktops
Windows, Glazing, Locks, Cills and Extraction Connections
Boundaries, Walls, Fencing And Gates
Soft Landscaping, Turf, Slabs and Retaining Elements
Driveways, Footpaths Access and Egress
Brickwork, Masonry, Render, Mortar and Openings
Guttering, Downpipes and Boiler Outlets
External Application of Sealants, Mastic
uPVC Windows and Doors
Garages, Brickwork, Doors and Slab
Meter Boxes, Manholes, Inspection Chambers
Porches, Bays and Canopy

Roof Tiles, Ridge Tiles, Verge, Eves, Fascia, Soffits and Rafter
Frequently Asked Questions
Can I add new snags to my snagging list?
Generally speaking the answer is no but this would depend on your property developer. This is why it is important to make sure you get a detailed and through snagging survey completed first time. A snagging list that is never ending is a head ache and expensive for a developer. They also want to avoid owners adding snags that is damage they have caused. Often building developers will have a policy that you can only submit one snagging list and you can't add to that list once it is submitted. However, major faults will be covered by new build warranties for up to ten years.
What should I include on my snagging checklist?
Here are some ideas of what to include in your snagging checklist. However, knowing what to look for and what it should look like are two very different things. You will be able to give a site manager a more detailed snagging survey if you use a professional snagging company. Never the less, here are a few things you could start to include in your snagging checklist:
For windows – has all paintwork been finished off, including undersides of sills?
Is the framework on windows and doors free from damage?
Is glazing throughout the property free from scratches, paint splashes and cracks?
Are all sanitary fittings undamaged and clean?
Are all kitchen units and worktops free from damage?
Are the doors of cupboards hung correctly?
Is any floor tiling complete, especially around cupboards, fittings and doorways?
Is any sheet flooring flat and free from curling edges and bubbling?
Is the skirting woodwork and paintwork undamaged and free from defects?
Does the gradient and access of the drive/path allow for clear access?
Has a top coat been applied to all external painted surfaces; and is the finish to a satisfactory standard?
What is a snag list?
A snag list is a list of all the defects, faults or poor workmanship found in a new build property. A snag list is normally created by a snagging company on behalf of an owner. A snagging company will conduct a snagging survey on a new build property and publish a report for both the owner and the property developer. This is then used to make sure that the property is finished to a high standard, as a site manager will address the issues found in a snagging inspection by going back into a property and fixing the snags.